Maybe you remember way back at the end of August when I was about to
Love Bus it back to Colorado
and mentioned The Gonz and I were having a Mu-Stache growing contest. (I like to pronounce it moo-stache) It wasn't really an official contest per say... Pretty much Jon and I were having a conversation one day and he mentioned he was growing out his stache, I had also started growing out the hair above my lip, and the unofficial, pseudo Mu-Stache contest was underway... In my mind at least.
Now, just for the record, I can't grow good facial hair. It's physically impossible. Chalk it up to bad genes, or... well, pretty much just shitty facial hair growing genes. My facial hair grows in all patchy and gross looking, like a teenager reaching that "special" age. In lieu of growing on my face, 85% of the hair that grows does so on my neck... sweet, thanks Mom and Dad.
So back to the contest... Jon (The Gonz) sent me a picture of his Stache via cell phone picture message and it was pretty impressive. I think he said he was going on like 3 or 4 weeks of growing when he sent me this:
Jon's dirt lip

Actually, now that I think about it, I'm pretty sure he told me he had trimmed it up to this length. He said it was way long and curling at the ends and getting in his mouth and he couldn't take it anymore so he had to trim it.
He had a bit of a head start so I had my work cut out for me, let the growing begin.
Now, in case you didn't know, growing a Mu-Stache of epic proportions is no small feat. It takes months of dedication and perseverance. Especially when, as in my case, said Mu-Stache grows in all stringy and not-so-thick like. It takes a certain bread of man to sport the human equivelent of whiskers, one with an unbreakable will. Kind of like one of my best friends who has chicks crawling on him at all times but refuses to close with any of them. People look at you with disgusted looks on their faces, children run away from you in fear, babes want nothing, and I mean absolutely nothing what-so-ever to do with you, and society in general frowns upon the growing of Mu-Staches. Why? I have no idea. We are a nation built on upper-lip warmers. I mean come on, some of history's most prominent figures rocked the Stache... and did so with pride.
Albert Einstein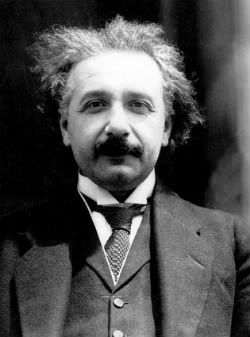 Teddy Roosevelt
Mark Twain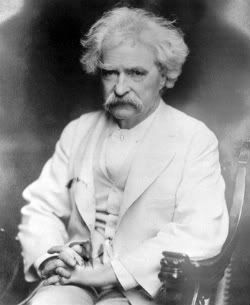 The Village People
Yosemite Sam
Robert Goulet
Ron Jeremy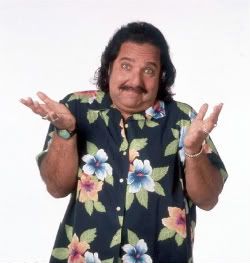 Ned Flanders
Ron Burgandy
Hulk Hogan
Frank Zappa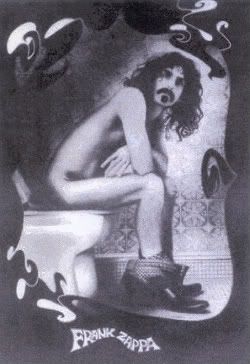 Rollie Fingers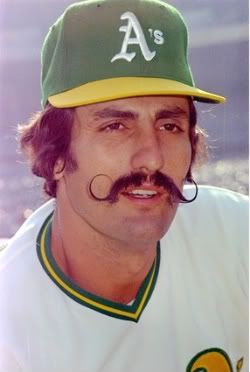 Burt Reynolds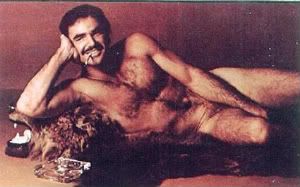 Just to name a few....
People who have never grown, or don't have the balls it takes to grow a Mu-Stahce, will never know the exhilarating and rebellious feeling that accompanies the forming of that luscious lip hair. Nothing says, "I'm really stickin' it to the man now!" like growing a Mu-Stache does. My friends endlessly ripped on me about my Stache, saying I looked like a
creepy child molester
. I respectfully disagreed of course, as my Mu-Stache was more along the lines of a
distinguished gentleman
in my opinion.
I tried a couple times to get Jon to send me more pictures of his Stache but I guess the filth got to him and he ended up shaving it off. Victory! Well, not really since I don't think he even knew we were having a contest. None-the-less, I stood strong and grew my Stache for 8 weeks and 4 days, before I couldn't stand that shit anymore and shaved it off. It was a very successful campaign though... I received a slew of compliments, even more burns and zingers, made myself look 30+ years old, had someone ask me where I bought my fake Mu-Stache, struck out too many times to count with the ladies, gave everyone a good laugh and best of all, drank a bunch of beer for free at a local bar during their Mu-Stache week. Boo ya.
Here's me and my Stache literally moments before its demise...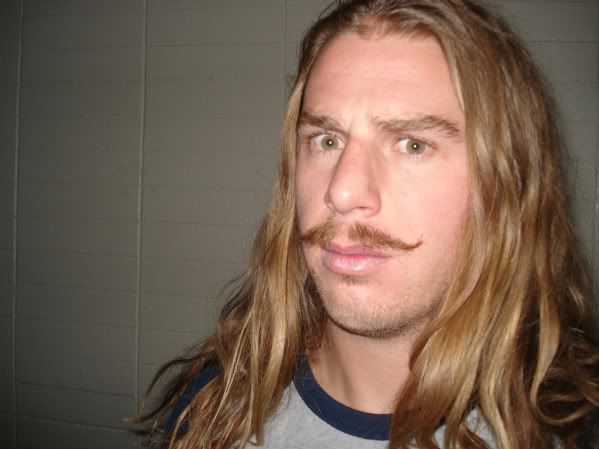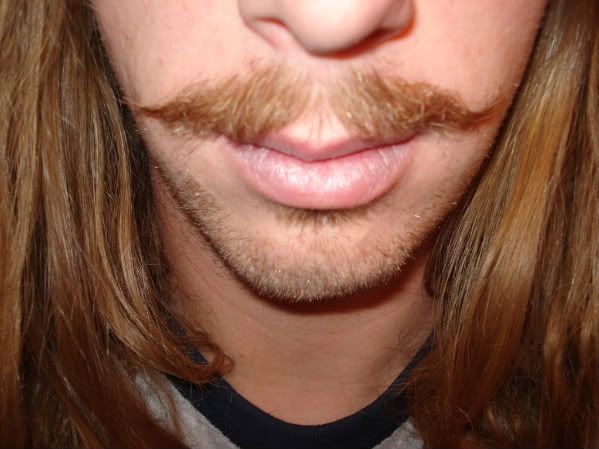 Pretty sweet huh?? Yeah, of course it is.
During the time the Stache was evolving and most notably during the last couple weeks when it was looking especially filthy, I made some keen observations involving the social aspect of Mu-Stache growing. I'll preface my observations by stating a cold hard fact: 90% of women DO NOT dig the Mu-Stache. Well, I'll be a little more specific, 90% of women under the age of 30 do not dig on dudes with Mu-Staches. If any ladies happen read this, please feel free to share your opinions.
One of my good female friends talked so much shit to me during my Steez Stache '08 campaign, saying over and over how much I looked like a dirty hippie. She stated, "Look Zac, if you look like a creeper, 9 out of 10 girls are not going to want to talk to you, no matter what you have to say. Personally, I think any guy with a Mu-Stache is gross looking. Unless you're like, in your 40's and a totally hot old guy, Mu-Staches are not hot. Girls don't want to kiss a guy with a Stache either, especially not with a gross one like you're rocking there." I could only laugh at her statements, as all babes totally dig on dudes with Staches, right?... Wrong.
We decided to settle our debate by having her send out a mass text message to all her friends asking whether or not they thought Mu-Staches on guys is attractive. The message read, "A friend of mine and I are having an argument. Whats you're opinion: Mu-Staches on guys, hot or not?" I believe the message was sent to about 40 of the girls in her phone and the results were overwhelming. Every single one that responded chose the "not" option. Some even added, "omg fucking gross," "super creepy," "I would never date a guy with a Mu-Stache," "makes me wanna puke." Don't hold back now, tell me how you really feel...
Conclusion: Babes don't like Mu-Staches. During the 8 plus weeks I grew my Stache, I received one, (1), uno, compliment from a member of the female species. She was so cool and the comment she made about my Stache is the perfect segue into my social observations on Mu-Stache growing. And I quote, "Dude that Mu-Stache is so rad... Most guys are too pussy to grow one."
Fuckin' A!! I realized this after receiving comments about the Stache from guys pretty much every time I was in a social setting. It was usually, "Dude, that Stache is so awesome," or some variation of that comment. My moment of enlightenment came when I was waiting at a bar to order a drink and one guy said, "I love the Stache man, I'd grow one but I don't think I could go out in public." I laughed it off, got my beer and continued with my night, but later thought about the comment and in a moment of supreme clarity, realized why more guys don't grow Staches... As my female Mu-Stache aficionada said, most guys are just too pussy.
It all made sense now. Every guy who complimented me thought the Stache was cool and wanted to grow one, but sub-consciously, or consciously for that matter, didn't have the balls to look like a dirt bag. They saw mine and were stoked but when push came to shove, they could never grow one in fear of what people would think of them,
especially
, what girls would think. It's a fundamental, primitive instinct really. Impressing members of the opposite sex and reproducing, or engaging in the act of reproducing, is genetically programmed into the male DNA... it's science. When the thought of having something greatly reduce the possibility of that happening, like growing a filthy Stache will undoubtedly do, a very large percentage of men will choose NOT to look totally fucking awesome.
Growing an epic(?) Stache was easy for me really. I mean C'mon... Just look at the pictures of me. My hair is longer than most girls', I don't wash it all that often, I buy the majority of my clothes at thrift stores, I skate and snowboard, I'm into old shitty punk music, and most of all I really just don't give a shit about what people think of me...appearance wise at least. I figured if I could find a babe who was into me while I had that nasty porn Stache growing then that's the kind of girl worth holding on to.* Most importantly though, I just thought it was totally fuckin' cool.
Unfortunately for everyone, too many dudes are way too self-conscious about their appearance and
fall into this category
. It's sad really, once the pinnacle of reaching man-hood, the Mu-Stache is slowly becoming as elusive to faces as big-foot is to photographers.
Chin-strap beards
,
man-icured facial hair
, and
whatever the fuck this is
, are taking over and making more and more guys look like total, unequivocal douche bags. Something obviously needs to be done. Revolution is needed, revolt may be necessary. Men everywhere must unite and fight for our god given right to grow the hair south of our noses free of persecution and in whatever style we deem necessary.
Handlebar
?... Hell yes.
Fu Manchu
?... You know it.
Walrus
?... Why wouldn't you?
70's porn
?... Swimming in babes. One can only dream of a world where Mu-Staches are as common and widely accepted as the spoken word... I don't know about you, but in these times of political unrest and moral despair, that's something I can most definitely take comfort in. Dig it.
*As it turns out I did not find a babe during my Mu-Stache growing. Way too awesome I guess...