If you want to read the review or peep the tunes, scroll down towards the end of the post.

Well, losing the the USB cord to the digi cam is not a good thing for the blog. Since Macs don't have memory card slots, the USB cord is really a vital part of the photo uploading process. I was feeling pretty unmotivated all week but was finally able to get the photos from the TITA premiere uploaded tonight on JB's computer so here we go... A week late.
Wow, where to start? How about a theme for the night, BIG TIME. Big time film, big time production, big time riders, big time tricks, big time locations, big time venue, big time turn out. That's It, That's All is hands down, the best snowboarding film I've ever seen, ever heard, ever been a part of. Absolutely, incredibly brilliant. So radical the first thing I wanted to do after watching it was go huck myself off a 100 foot back country booter. The most amazing display of snowboarding trickery, fantasti-- Shit you get the idea. There was a sold out crowd of over 2,000 people on hand to witness this epic event. Unreal.
From the beginning.....
After an all day skate sesh last Saturday at a variety of different spots in the areas surrounding Denver with Tom, The Gonz and his little bro, Tom and I headed into the heart of downtown Denver to meet up with Brian and pick up our tickets for the film. Unfortunately, The Gonz had to work so he wasn't able to attend. We found some meter parking a few blocks form the host venue, the
Ellie Caulkings Opera House
at the
Denver Performing Arts Complex
, and skated over there. I'd never been to this place but had heard it was the real deal... And yes, it is fucking legit. This place takes up four city blocks, houses three big time performance spaces including the Ellie, seats over 10,000 and is enclosed by an 80 foot tall glass roof. So rad. The TITA crew couldn't have picked a nicer place to hold the premiere.
So we arrive around 5:30 to peep the tickets and one of the first things both Tom and I notice, being a member of the male species, is group of about 7 smokin babes all wearing the same,
70's flight attendant-esque
attire. Turns out they are the Red Bull girls and seeing as how Red Bull is one of the major sponsors of the film, it didn't surprise me that every one of the babes was very aesthetically pleasing. A sign of very good things to come.
The film didn't start until 7:00 so we had some time to kill. We skated around down town a little more and hung out with one of Tom's friends who has a sick apartment over looking down town.
Finally it was time to head over so we all put on our collared shirts for the "dress to impress" event and the night was underway. There were already a slew of people waiting outside when we arrived and it looked like a snowboarding prom in progress. The girls were in dresses, the dudes in nice shirts, some had suits on, some had bright pink and orange suits on, and some didn't dress up at all and had their normal skater/snowboarder kit on. My kind of people. We waited around for a while then finally the doors opened and everyone rushed inside.
Pre film gathering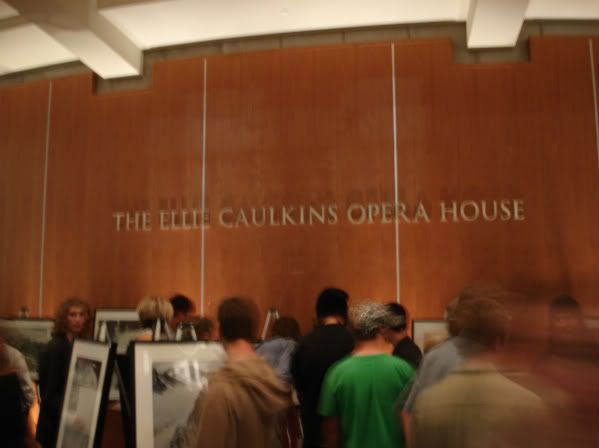 The Ellie
A bit chaotic inside...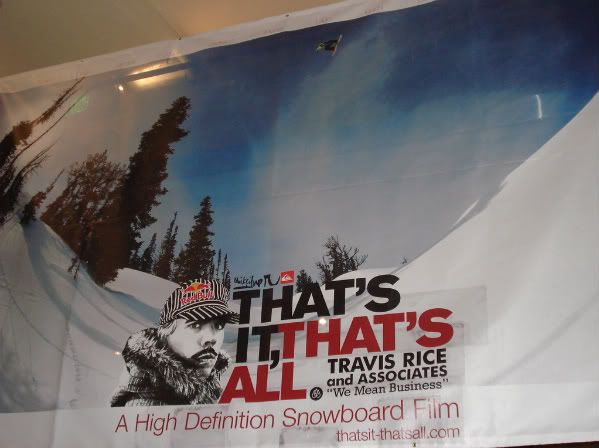 Big-ass banner hanging inside
Once inside we wondered around the buzzing crowd for a while contemplating whether or not to go wait in line at the bar for drinks. The bar was packed so we decided to go in and get seats... Plus I wanted my senses to be keen for the film. We found some kick ass seats smack in the middle of the first section and were ready to watch the film. Well, over an hour later and it still hadn't started... sweet.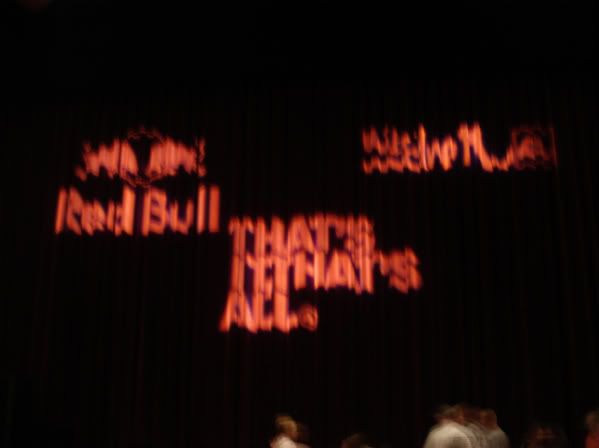 Closed Curtains
Packed house
Tom, Brian, and Myself. Nice face Brian, ya D bag.
So while we were waiting we got to listen to an interesting conversation behind us between an attractive female and a total douche bag. This dude was clearly trying to hit on the babe but was also very clearly striking out. She was from New Jersey and had moved out to Colorado for school and was a novice snowboarder. She wasn't interested in his back story so I didn't catch that. He kept trying to start up the conversation after she kept ending it and it was very humorous. At one point she decided to humor him and they started talking about snowboarding. He asked her a lot of questions, she gave short 5-10 word answers. Feeling obligated, she then asked him what type of riding he did to which he replied, "I'm all about riding park." "Even on powder days I just ride park...." After hearing that Brian and I immediately looked at each other and started laughing. Riding park on powder days?!? Are you fucking kidding me? That's probably the reason this babe has zero interest in you, brah. What a kook.
After waiting forever, the lights finally dimmed and the sold-out crowd went ape shit. This dude wearing a sweet red shirt came out to introduce the film and was really funny. I can't really remember any specifics of what he said at this point, so just take my word for it. Actually, I remember him saying something like, "See these two little speakers here? Well get ready to be ear-fucked by them." I laughed at that. After thanking sponsors and the other usual shit it was time for some product give away. Now, this wasn't your average free tee shirt/hat/poster/lame shit product toss. Along with the theme of the night, this was a big time give away. How about, DC boots, DC and Quiksilver outerwear, and two Lib Tech boards: A
Skate Banana
and a
Banana Hammock
? Yeah, big time. A hand full of lucky crowd members had raffle tickets taped under the the railing in front of them and if your number was called, you won. I was pretty bitter about not having a raffle ticket... I wanted that Banana Hammock so bad!!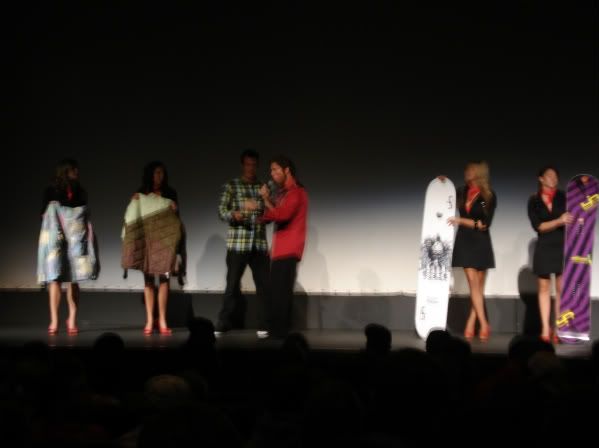 The goods
Red Bull babes and Lib Tech boards... Does it get any better?
After all the product was distributed, Red shirt dude introduced the the dream team of rider/master mind Travis Rice, rider Mark Landvik, and producer/director/editor Curt Morgan. Here's a little intro video...
That's It, That's All introduction
from
Zac Bryson
on
Vimeo
.
Finally, the film started... Ahhhh yeah. I got a few screen shots but most of the photos I took turned out shitty. Here's a couple good ones.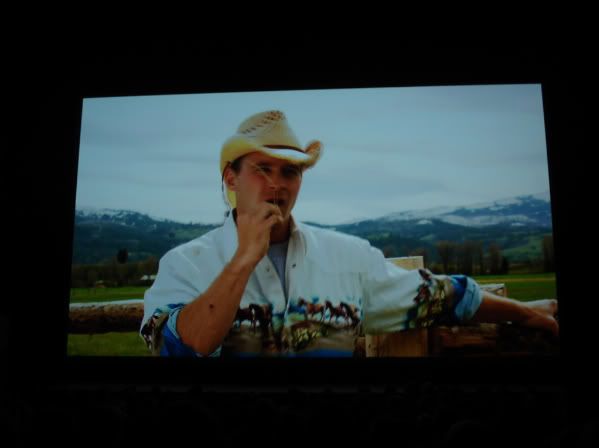 Mark Landvik's hilarious intro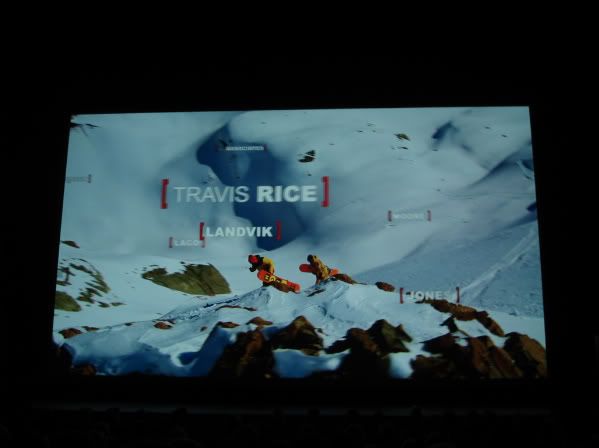 Featured riders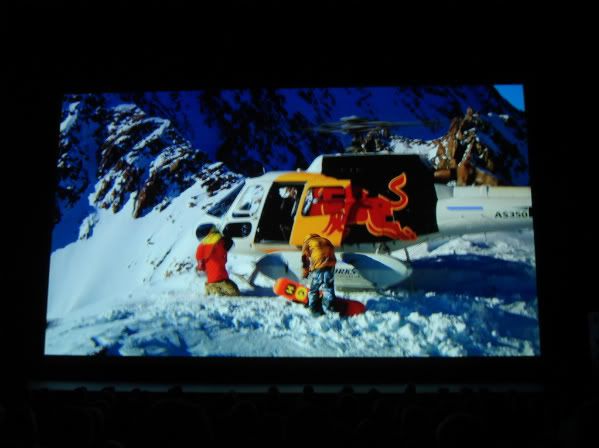 Red Bull chair lift
Shay has some
really good screen shots
from up in the 3rd section, so peep those.
So about the film... Like I said before it's the best I've ever seen. The first thing that blew me away was the production of the film. It was played in all of its HD glory on a gigantic screen. This thing was like 20 feet tall by 30 feet wide, fucking huge. Eat your heart out IMAX. I'd never seen a shred flick on a screen this big and let me say it makes a huge difference. You can really grasp the magnitude of the riding. Next, the dude wasn't lying about the "ear fucking" sound system... loud would be an understatement. Brain rattling, or ear exploding would better describe the audio onslaught endured. Everything started vibrating when the music started, especially down in the front where we were sitting. The first song when the snowboarding started was this awesome metal tune and it was like being front row at a Slayer show.
I can fully understand why this film was over two years in the making. Everything was filmed in HD and the whole video was one mind blowing shot after another. The cinematography rivals that of any Hollywood multi-million dollar production. The nature shots were beautiful, they reminded me of the
Planet Earth
series, bald eagles flying, big horn sheep butting heads, mountain goats sprinting along the steep mountains with ease, breath taking landscape shots. The angles of filming the riders was unlike any I'd ever seen either, there were some very creative and unique shots.
The film switched back and forth between documentary-ish style and pure shredding radness. A lot of it was kind of a history of Travis Rice and his exploitations. There were a couple awesome segments on Brain Iguchi and Terje Haakonsen being a major influence on Travis also. Needless to say at this point, but the riding in the film was, yep you guessed it, epic. Travis Rice is the best, most progressive snowboarder in the world right now. There might be others who are more successful in contests but that doesn't mean shit. Anyone can ride groomed booters and pipes. Not everyone can absolutely annihilate every possible type of terrain like T. Rice can. Steep and deeps, back country booters, 100+ foot gaps, pipe, park, whatever... He kills it all. He was throwing tricks I don't even know what to call. Triple Corks? Yea no problem... Surfing avalanches? All in a days work... Tree bonking 7's? Child's play. The dude is unreal.
The second lead in the film was Mark Landvik. If there's a more stylish rider out there I challenge you to find him. I love watching this dude shred, and I especially love watching his super
tweaked methods
. He had a couple in the film and I was one of only a few who cheered for the best trick in all of snowboarding. Both he and Travis ride for Lib Tech and are so sick... Coincidence? I think not.
Terje, Brian Iguchi, Nicolas Muller, Jeremy Jones, John Jackson, and Scotty Lago were also brillant in the film. Each rider brings something a little different to the table and that's what makes it so fun to watch. As in Absinthe's film Ready, Jeremy Jones goes super gnarly. He talks a little about his love affair with the big mountains of AK and the dude can rip. He wrecks his shit hard on one run though... Scotty Lago is insane in the pipe, going huge on every hit and pretty much every thing Muller does is dope.
Along with the other worldly trick wizardry, That's It, That's All features some of the best locations for snowboarding the world has to offer. New Zealand, Japan, Alaska, and Jackson Hole Wyoming to name a few. The terrain ridden is also nothing short of amazing. Big time steep AK lines, huge park kickers, cliffs, tree runs, deep pow... Anything and everything a snowboarder could possibly want. There were also some massive avalanches captured on film. Like big time, nothing in its path is surviving. It was pretty incredible to watch.

The film is like an hour and a half long so there are countless other sick moments. Here are some hi-lights from the film:
T. rice, Landvik, and crew killing it
Pat Moore riding a snow mobile across a lake
Lando's hilarious intro
T. Rice dropping a cliff in a bathing suit
Awesome/funny segment on how a board is made by Lib Tech
Jeremy Jones helmet cam AK shredding
30 foot tree bonking session
The Snowpark New Zealand section
T. Rice, Terje, and Muller all ripping together in AK
The awesome music...
Song name
- artist
We Own The Sky

- M83
Call to Arms

- Exodus
Chains of Humanity

- God Forbid
Almighty
- Emanual(PRS)/Taylor(PRS)
Dharma Karma
- Indy Blackness
Champs Fanfare

- Fucking Champs
Waters of Nazareth

- Justice
The Last Effort

- Kataklysm
Sacred Ground
- Nick Phoenix(ASCAP)
Acid Test
- Micky Moody(PRS)
Kids

- MGMT
Onsen
- Joji Hirota(PRS)
Paisley Pussycat
- Stefan Kling(GEMA)
Press Gang

- The Murder City Devils
Revival

- Soulsavers
Sole Comfort
- Waddell(PRS)/Parnell(PRS)
Insengard Unleashed
- The Funeral Ryre
Crazy Mexicans
- Klean Beats
Carmen-Habanera

- B.Bizet, Georges
Hypnosis
- Emanual(PRS)/Taylor(PRS)
Fourth Degree
- Klaus Badelt(GEMA)
Stormy High

- Black Mountain
Limbs

- Agalloch
Singapore Sling
- Heinz Kiessling(GEMA)
Kodocolor
- Joji Hirota(PRS)
Moonchild

- M83
Won't Be So Down (Lights Low)

- Will
Trailer song -
Cry of the Black Birds

- Aman Amarth
Well I'm running out of adjectives to describe the film so I'll wrap this up. I think the best thing to say about it is after I was done watching the only thing I wanted to do was go find some waist deep powder and riiiiip. The whole experience was such a blast. I was so stoked there was such a strong showing of Colorado shreds to support the film. The venue was amazing, the people, the riding, the whole big time film premiere experience is something I'll never forget. I can't wait for this to come out on DVD... I'll have to turn my TV all the way up and sit 2 feet from it to get the same experience though!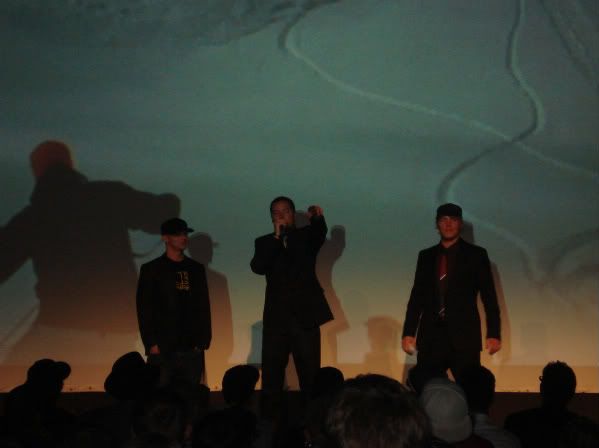 Landvik, Morgan, and T. Rice after the film
We hung around after the showing for a while and talked to some people and snapped a few photos. Tom and I were able to talk to T. Rice for a minute and get a photo with him. He was super cool and was stoked on my mu-stache! Landvik was standing right next to us while this was taking place but Houdini'd out of there before I could talk to him.
We decided to skip the after party and instead skate around down town Denver for 3 hours... Epic ending to an epic night.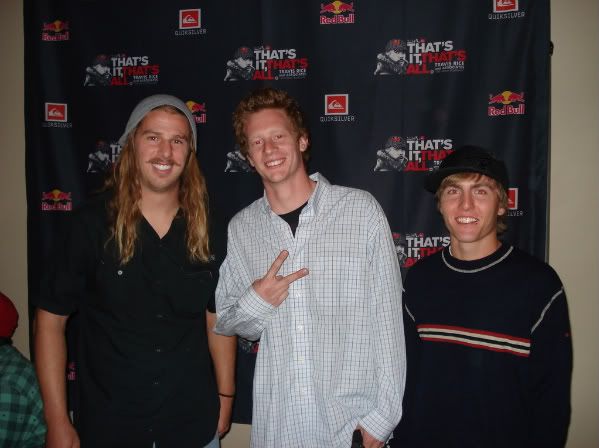 Myself, Tom, and Dallas after the film
Myself, T. Rice, and Tom... Holla!