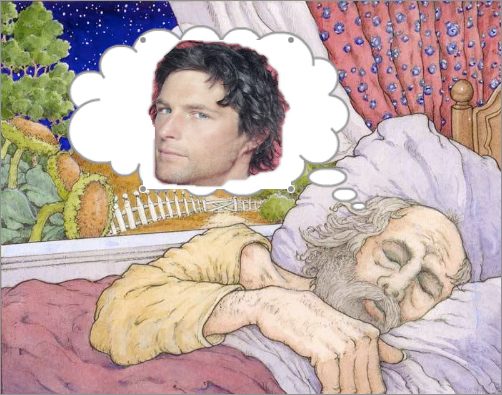 Has
anyone
ever had a recurring dream? You know, like the one where you're dressed like
Italian
Spiderman
, riding a giant
white unicorn
with
Gary Busey
through a forest made of candy and 100 dollar bills, belting
Karma Chameleon
at the top of your lungs? Wait, no one else always has that dream? Hmmm...
After doing a little recon on recurring dreams, I find the phenomena to be quite interesting. According to
DreamRePlay.com
, with Dr. David Jenkins Ph.D, "A recurring dream is an important message that hasn't yet been delivered. Recurring dreams make most sense when you think that your unconscious has a message for you and the message is too important for it to drop just because you don't understand it. So, a recurring dream contains an important message. One that is worth repeating over and over." Fascinating...
MeaningOf Dreams.net
states, "
With recurring dreams, the message may be so important and/or powerful that it just will not go away. The frequent repetition of such dreams forces you to pay attention and confront the dream. The dream is trying desperately to tell you something.
...These dreams may recur daily, once a week, or once a month, but whatever the frequency, there is little variation in the dream content itself. It usually points to a personal weakness, fear, or your inability to cope with something in your life - past or present." Intriguing...
And finally, according to the most reliable fact source in the world, Wikipedia, some of the most common recurring dreams are:
The sensation of falling
Being held down or otherwise unable to move
Nakedness in a public place
Being held back in school or failing a test
Losing teeth or the ability to speak
Drowning, or otherwise not being able to breathe
The only recurring dream I've really ever had is where I'm trying to run away from something, but I just can't get my legs to move and it feels like I'm stuck in quick sand. I've had this one a handful of times throughout my life. Perhaps my subconscious is trying to tell me I can't run away from my true feelings or problems and I have to face them head on. That, or I'm just a really slow runner...
So why all this talk about recurring dreams you're undoubtedly asking your self... Well, over the span of, I'd say the last month in a half or so, I've had a pretty interesting/weird/funny/WTF? recurring dream. The first time I had this dream, I woke up a literally said to myself, "What the fuck was that all about???" And laughed. The second time I had it, I was in disbelief I had it again. The third time, even more amused/confused. The fourth time, which was last night, I gave some serious thought to submitting myself to psycho analysis and seeking intense therapy. Well, not really, but I did ponder what my subconscious was trying to tell me...
If there's any dream experts out there reading this, feel free to take a crack at this doozy...
I'm on a mountain snowboarding, I don't know which mountain I'm riding, or state I'm in, or country, or any other clue as to where I might be. I'm riding a
Capita Horrorscope
snowboard, (I rode this at the 09/10 demos) and I'm wearing bright yellow pants. When the dream starts, I'm looking down at my board and pants, so that's how I know my gear. I start to take a run and I'm just cruising along, making some turns and popping some ollies like I do in real life. I see a sign for a terrain park and I decide to check it out. When I stop at the top of the park, there are a bunch of riders already there and I stand for a little bit and watch the other riders hit the features. After a couple minutes, I hear a voice behind me say, "Hey, yellow pants!" It Doesn't register that the voice is talking to me at first, so after the second and louder, "Hey! Yellow pants!!" It clicks and I turn around to see who is talking to me. The voice is coming from none other than snowboarding legend,
Todd Richards
.
I know it's Todd because I recognize his face, he's wearing a jacket that says "Awesome!" all over it, and in all but one dream, he's riding an O-Matic snowboard. I'm a little shocked to have Todd Richards talking to me so I kind of stumble over my words when I say, "Uh, hey... What's up?" He then scoots over to me, and without any type of greeting he says, "Yo yellow, you know how to work a camera?" And holds up a fancy
VX style
video camera. I reply with, "Yeah sure I do," and he says, "Rad... Take this and follow me." Then he adds with great emphasis, "DO NOT fall behind. Make sure you keep up with me." "Ok no problem," I reply, thinking this is fucking awesome, I get to follow Todd Richards around and film him. He hops forward ahead of me to start his run and I push record, point the camera at him, and start to follow.
And this is where it gets a little weird...
He hits a couple rails, I'm right behind him. He hits a jump, I'm still right behind him. Then, he hits a HUGE jump and does like a 1440 or something, lands and is going mach 5, and I start to fall behind. He hits an even bigger jump, lands, and starts going even faster, and I fall further behind. He's a good distance ahead of me now, so I point it and start to go as fast as I can to catch up. Everything he hits something he starts going faster and no matter how hard I try, I can't catch up. I'm not turning at all, just slightly speed tucked and flying down the mountain. He's way ahead of me now and I'm starting to get mad that I can't catch up. I speed through the rest of the park and now I'm on a regular run. I can still barely see him wayyyy down the hill and I go into a full on, boarder cross, gaper style tuck and am riding at a scary speed after him. No matter how fast I go, I can't catch him, he just keeps going faster. After more intense riding, I finally see the lift at the bottom and slam on the brakes, spraying a massive wall of snow into the air.
The lift is packed with people and I'm looking around for Todd. I finally spot him waving his arms at me and I skate over to him. He's furious. He starts yelling and cursing at me, demanding to know why I couldn't keep up with him, and accuses me of ruining his film. I'm speechless, and try to explain that I was doing everything I possibly could to keep up but he interrupts and yells even more and starts to get really mad and gets in my face. I back up, flabbergasted, and try to explain again, but he yells even louder, grabs the camera out of my hand, pushes me over and says, (In all four dreams) "You're such a fucking loser. If I were you, I'd go throw my snowboard in the trash and never come to the mountain again. Now get the fuck out of my face." He walks away, I'm in shock, and everyone around starts to laugh. I get up and stand there watching him walk away and....... I wake up.
What. The. Fuck?!
I've had that dream four times now. Is that not some crazy shit? I think it's so funny because Todd seems like such a mellow/funny dude in real life. I don't know why my subconscious portrays him to be such an ass hole. This dream lasts all of 5 minutes, or so it seems in the dream. The other weird thing is, I mentioned in 3 of the dreams he was riding an O-Matic snowboard. The third time I dreamed this, he was riding a Rossignol board, what he rode before O-Matic! It's so crazy I notice this in the dream and can remember it now, while everything else happens exactly the same.
So what does it mean?? What is the important message my brain is trying to tell me? What is my
personal weakness, fear, or inability to cope with something in my life - past or present
? I can only laugh at this, as it makes absolutely zero sense. Perhaps Todd and I are connected in some magical, mythical way... Or maybe I'm just a shitty snowboarder who can't keep up with anyone whilst filming. Whatever the underlying meaning, it makes for a pretty funny story I think. It'll be interesting to see if I have the dream again... If I keep having it I'll start a counter on the site.
Any thoughts and/or opinions about this are greatly encouraged, as dream analysis might become a new hobby of mine. And as always, dig it.