We rode Canyons today and it was the shiz-nit. Another beautiful spring blue bird day with slushy snow and mellow vibes. I went with one less layer on today and that was the best decision I could have made all day. I think it got up above 50 degrees today... I should have used the talc powder this morning.
We rode with again with Stephanie and also met up with Shay's other pal, Emily. We took some laps through the park and then (again) went on a hunt to find left over pow staches in the trees. The park at Canyons was sooo much fun... A few awesome boxes to jib and pretty much the best jump line I've ridden all season. 4 hits all getting progressively bigger that were the perfect size. I could have stayed in the park all day hitting those jumps, doing methods off every one!
After riding we hit up a little grocery in the village for some tall boys and caught the tail end of a free show featuring the
Wailing O'Sheas
. After drinking 24oz of God's gift to mankind, PBR, we all headed to another one of Shay's friends pad and BBQ'd some food, drank more beer, and played beer pong and bowling on the Nintendo Wii. Great ending to an awesome day of riding.
I didn't really get any photos from today, mostly just video, so you'll just have to wait for that to premiere in a couple days.
Back to Park City tomorrow for some riding and then another 5 hours back to Steamboat. Dig it.
The crew
Shay jibbing a big ball...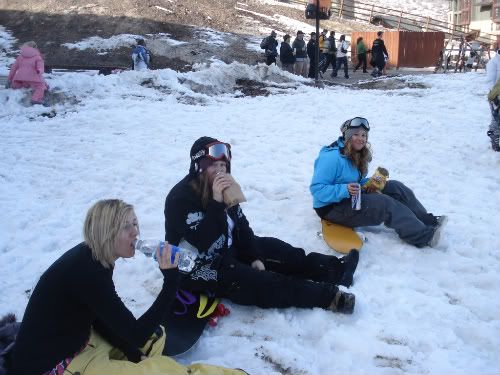 Emily, Shay, and Stephanie tippin' one back
Lib Tech and PBR... A guy can't ask for much more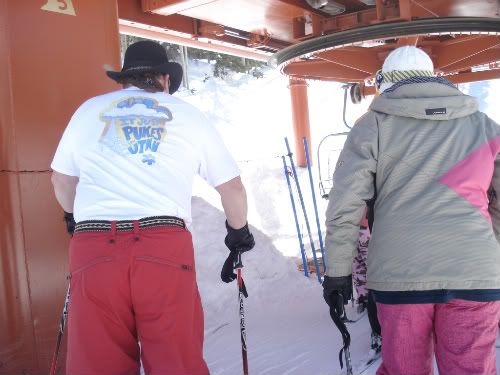 The Ultimate Gaper... Sweet shirt dude